Date: Apr 09, 2021
Posted By: Mackenzie Gray


Iconic rapper DMX died today (April 9) after being admitted to a New York hospital with an emergency health issue on April 2, reportedly suffering an overdose which resulted in a heart attack. Members of the rock and metal community have publicly mourned the loss of the influential figure, who was just 50 years old.

DMX (birth name Earl Simmons) was born in Mount Vernon, New York, on Dec. 18, 1970 and rose to prominence during the late 90s and on through the 2000s and into the following decade. He released a total of eight studio albums and spawned enduring hits such as X Gon Give It To Ya, Where the Hood At, Ruff Ryders Anthem and Party Up (Up in Here).

The two-time American Music Award winner was also nominated for three Grammys and five MTV Music Awards. Five of the rappers albums have been certified platinum by the RIAA as well: Its Dark and Hell Is Hot (1998), Flesh of My Flesh, Blood of My Blood (1998), ...And Then There Was X (1999), The Great Depression (2001) and Grand Champ (2003).




Date: Apr 04, 2021
Posted By: Luke Mason


How do I like my eggs? Umm, in chocolate form.

Happy Easter Everyone!!!!




Date: Mar 27, 2021
Posted By: Jayden Wright


If this week has been a bit of a drag and you need a good laugh to end it off, Spongebob dancing to Slipknot should do the trick.

A user on the Slipknot Reddit... somehow... discovered that playing Wait and Bleed from the Knots self-titled album goes perfectly with Spongebobs who put you on the planet dance. He does a little arm wiggle and some form of a two-step, and the chorus fits it perfectly. What a gem.

Upon being questioned how the person who posted it came up with the idea, they wrote, Ever since I heard the song for the first time all I could see was Spongebob fucking doing this dance and when I finally put them together I was very surprised to see how well it actually worked.

You know those things that people tell you are funny, but really arent? This is. One of the comments under the video reads, I havent laughed this hard in three days thank you.

And lucky for us, someone decided to make a high-quality version of it, uploaded it to YouTube and dropped the link in the thread. So, without further ado, watch Spongebob dance to Wait and Bleed below. Sid Wilsons got nothing on the Sponge.

Oh and Corey Taylor? We want to know what you think.




Date: Mar 20, 2021
Posted By: Luke Mason


Metallica have had a huge impact on a lot of musicians, but especially on Gojiras Joe Duplantier, who says he owes his career as a musical artist to them.

The frontman noted that the Ride the Lightning track Fade to Black was the first song he learned how to play on the guitar, but thats not the only close connection he has with Metallica.

When Gojira were on tour with the thrash legends in Europe years and years later, Duplantier met his wife while he was out at a bar with Lars Ulrich in Lithuania.

I think its a beautiful story, I tell my kids all the time... Lars is practically their Godfather, he told Loudwire Nights. And he knows, Without you, I wouldnt have met my wife, I wouldnt have my kids right now. Because hes the one who told us to meet him at a bar, a specific bar, and turns out it was my wifes favorite place to go.

Metallica brought me so much. The inspiration... I wanted to be them at some point, he admitted. I was so in love with their music when I was a teenager. They really inspired me so much, helped me to go through high school [and] eventually made me start what became my life today — my musical journey.

Thus, Duplantier has a career as a musician and a family because of Metallica. What a story.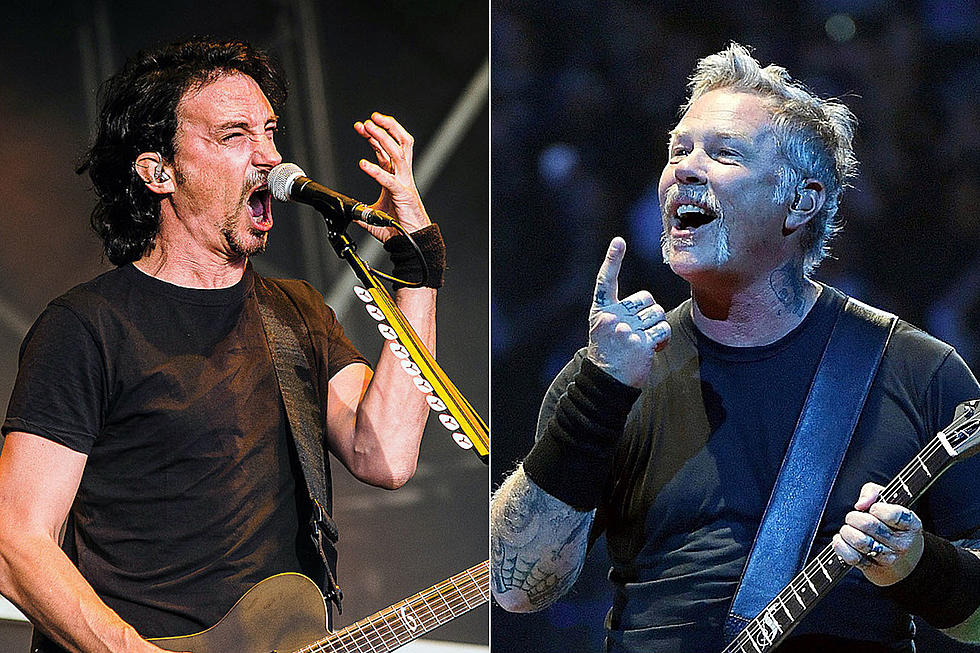 Date: Mar 03, 2021
Posted By: Mackenzie Gray


Godmack have used the past year to work on new music, teasing a plan for multiple releases. One of those sets that Sully Erna previously mentioned was a proposed acoustic EP, but in a new chat with the Mistress Carrie podcast, it sounds as though this collection may vary in approach from their previous acoustic release, The Other Side.

The Other Side arrived in 2004, following on the heels of their 2003 album Faceless. That set featured an acoustic version of Re-Align, with the new song Touche and some material that had been previously written but never released. It hit No. 5 on the Billboard 200 Album Chart and has since been certified gold by the RIAA.

We always listen to our fans and we pay attention, and although we write the kind of music that we love and that we wanna write that satisfies us, we still like to hear and try to honor the fanbase thats stuck by us for the last 26 years. So one of the things theyve always asked us, When are you gonna do another acoustic record? That was so cool that one you did, says Erna [as transcribed by Blabbermouth].

That acoustic record really was nothing more than our own songs stripped down into acoustic cover version of em with a couple of originals on it. So this year, what we wanna do is create a full-length rock record, but we also want to go back and create a really cool vibey acoustic album, or EP, so we can launch a couple of records, or at least have em in the can. And thats our goal.

He continues, Were gonna be in there all year just writing music. And if its a big fat rock song, its gonna go in one folder, and if its kind of a cool piano piece or acoustic track, its gonna go in another folder, and then were gonna record everything and then pick our favorites and put out a couple of albums worth.

Godsmacks last album was 2018s When Legends Rise, which yielded four singles and hit No. 8 on the Billboard 200 Album Chart.